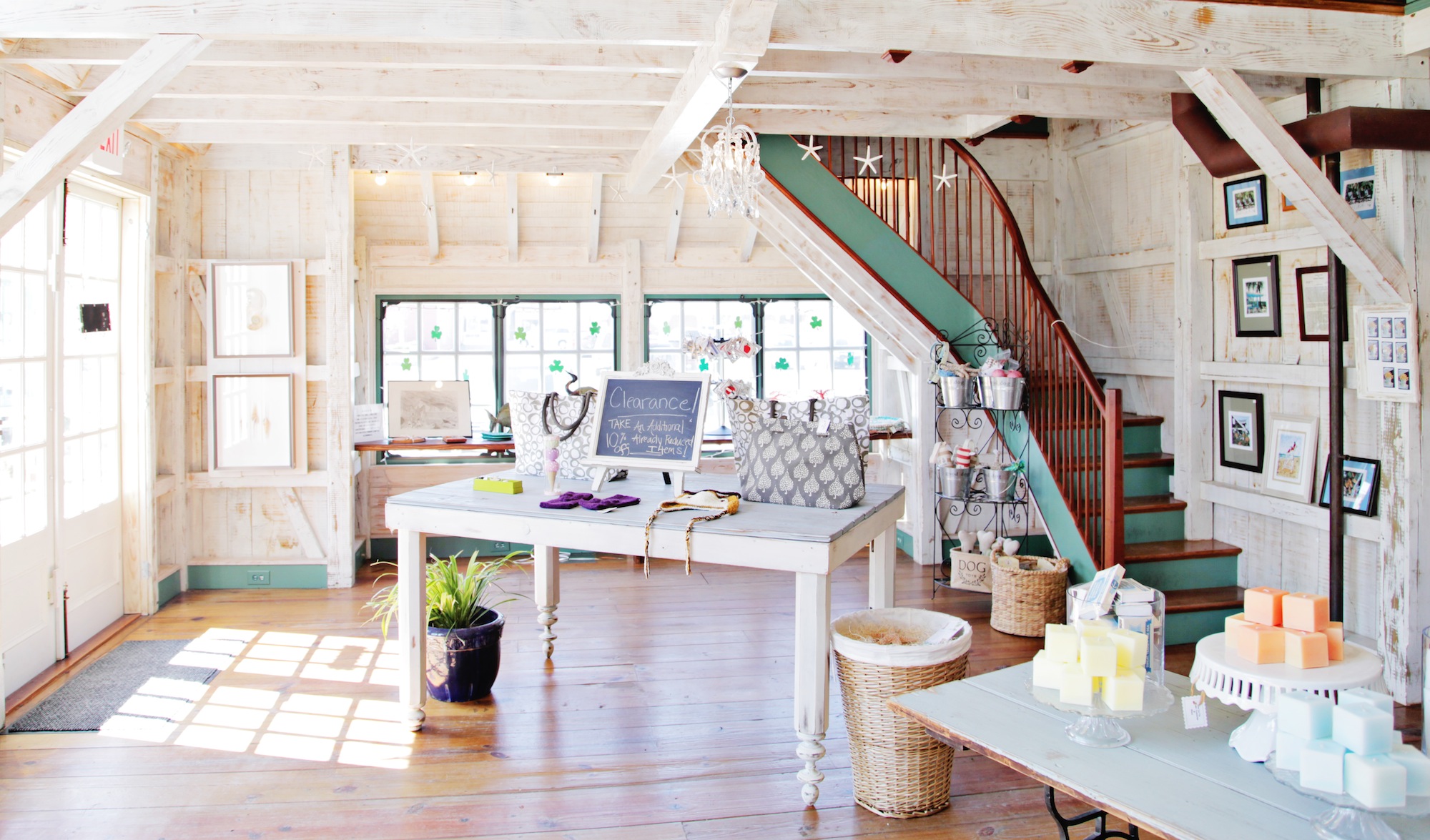 When I started this blog, one of my missions was to feature all the amazing little boutiques and shops that I've been discovering on the Eastern Shore. Today, I'm officially "launching" the Local Love series where I'll highlight some of my favorite local shops and small businesses. I hope this series can turn into a guide (for locals and visitors alike) of some of the trendiest and unique spots on the shore, and of course encourage everyone to shop local!
I'm kicking off this series with a place that may just be one of the cutest boutiques I've ever been in, with one clever little name… Sea La Vie.
::Deep Breath:: where do I begin. Wide plank wood floors, white washed walls, exposed beams. Enough said. Architecturally speaking, It's hard for me to process all its greatness. Huge windows and glass pane double doors floods the room with natural light, and two loft areas overlook the open and airy space. As if its chic barn house style wasn't cool enough, they filled every nook and cranny with nautical and beach themed home decor and accessories ::gasps::
The store opened in October of last year and is owned by two of the sweetest, nicest, gals Devin & Hunter (and they are sisters). Sea La Vie has everything from housewares, artwork, jewelry, purses, bridal and baby shower gifts, even dog toys. And they plan on selling clothing by the end of the year. A great thing about the merchandise is that a large portion of it is made in the USA, and even locally. Love that!
I cannot thank Devin & Hunter enough for letting me share my experience with you all. If you're in need of some coastal style decor, pretty accessories, or just want to be totally awed by its atmosphere, head over to Sea La Vie, and let me know what you think (I know you'll love it). You can follow them on Facebook and Instagram too.
Sea La Vie
11 Artisans Way
Berlin, MD 21811
I can't wait to share more Local Finds with you guys. Thanks so much for reading!