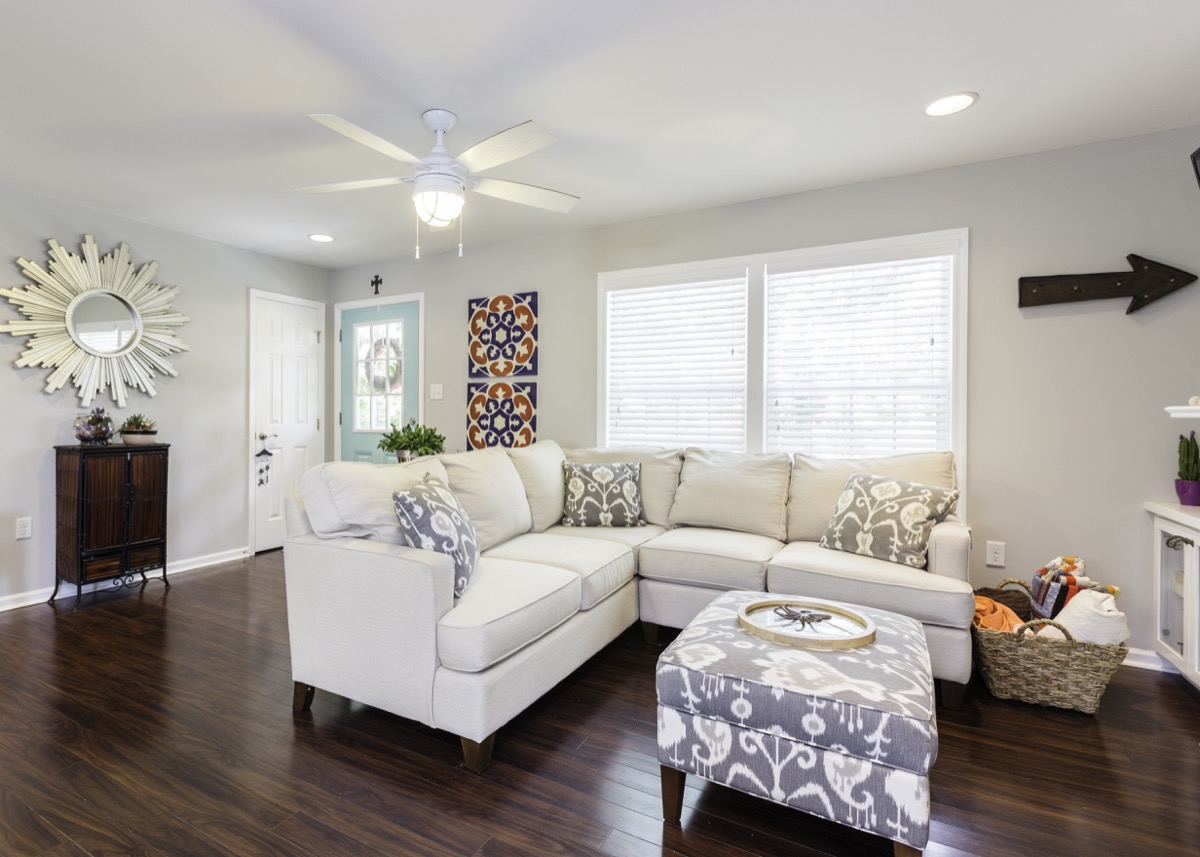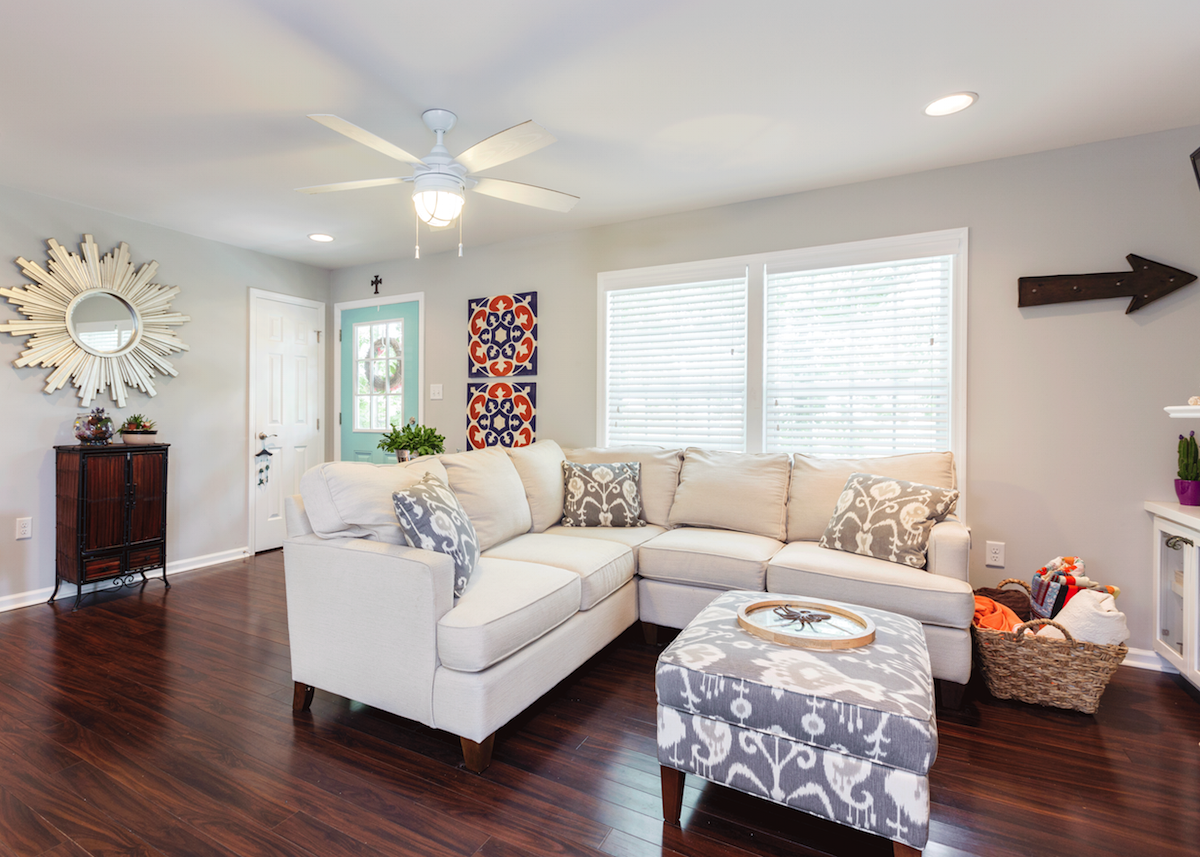 Let me preface this post by saying this is what a $40k renovation looks like –absolute perfection! When Jessica reached out to me about featuring her home, I was so excited to find out that it was a renovation project. I've always wanted to turn a fixer upper into my dream home, and after talking to Jessica about her renovation the more I realize how doable it is, and how much bang you get for your buck.
After failing to find a move-in ready home with all the features she desired (ie. Moen fixtures, bamboo floors, custom cabinetry, and upscale appliances) in her price range, Jessica knew that investing in a fixer-upper was the only way she would get her "champagne taste, on her beer budget". When she bought this foreclosure, it was in very poor condition. We're talking water damage, mold, broken pipes, broken windows, and this list goes on. You can see before pictures here.
Everything had to be renovated and replaced. With no prior renovation experience or DIY skills of her own, Jessica hired Celtic Nations Contracting to transform a nightmare of a house into her dream home. The renovation only took 4 months to complete, and the outcome — a brand new, custom designed home that's a little bit bohemian, a little bit coastal, and a whole lot of chic!
Q&A with Jessica:
Design Style: Honestly, I just pick things that I like as individual pieces and hope they all look good when I put them together. I love clean modern lines, but also traditional accents. I'm really into fun patterns like ikat, chevron, greek key etc. I love a coastal style, but modern coastal. I love vintage furniture mixed with modern and traditional. I am beyond grateful for the family pieces that I have. I just wanted everything to feel lived in, warm and inviting. I think I achieved that, I feel like I've lived in my home for a lifetime already. It really feels like me inside and out.
Inspiration: Pinterest played a large part in my renovation. I literally had a board for each room. I went through and pinned the things that I liked and then pulled elements from each pin and combined them to make every room exactly as I wanted it.
What was the renovation process like: I worked with Celtic Nations Contracting and I truly couldn't have done this without them. They made my dream a reality. I would show Dee or John a crazy Pinterest pin and they would say "yes we can do that" or "no, you can't afford that, but we can do this instead". Brian, their onsite carpenter (or wood worker extraordinaire as I would call him) custom built my cabinetry in the living room and my kitchen island cart from a Pinterest pin. The pieces are exactly what I wanted and imagined for my home. Even better than those pins!
As I said, the guys at Celtic Nations were a dream to work with. But yes, I think any renovation like that is somewhat stressful. I just kept my eye on the prize. It was hard when everything was in the demolition stage, but when the new stuff started coming in I got really excited really quickly, and overall it was a fun process.
Favorite Feature(s): My 3rd bedroom, which I have made into my own personal dressing room. That dressing room is something I have always wanted. My living room, my kitchen… Just every room honestly! My exterior is a work in progress, but I'm sure when it is complete my backyard will be one of my favorites.
Favorite places to shop: Marshalls, Etsy, Dot & Bo, World Market, Pier 1 and Bed Bath & Beyond, just to name a few. I love to shop! Most of my new furniture came from Johnny Janosik's, which surprises most people. They offer some really great lines that are totally customizable, fabrics, woods etc.

Best advice: My dad told me that anything in life costs twice as much and takes twice as long as you think. I can say this has been true in some cases. I certainly had sticker shock on what certain things cost. The best advice I can give is to work with a reputable contracting company like I did. Cut corners in the right ways, but don't skimp on the things that make a large impact. Find your style and stick to it. Keep it simple with wall coverings. I opted to paint most of my modest home the same color, a light gray (Benjaman Moore Stonington gray) with turquoise accents (Sherwin Williams Jamaican Bay) . I felt the light walls and dark floor throughout would make things appear larger. Be patient with your contractors and with yourself. Thankfully I was in the position that I didn't have to live in my home while it was under construction. Lastly, pin, pin, pin. Pinterest really helped me to organize all my ideas, wants & needs.
Have a stylish home that you want featured on East & Lane Home Tours? Submit your space here.