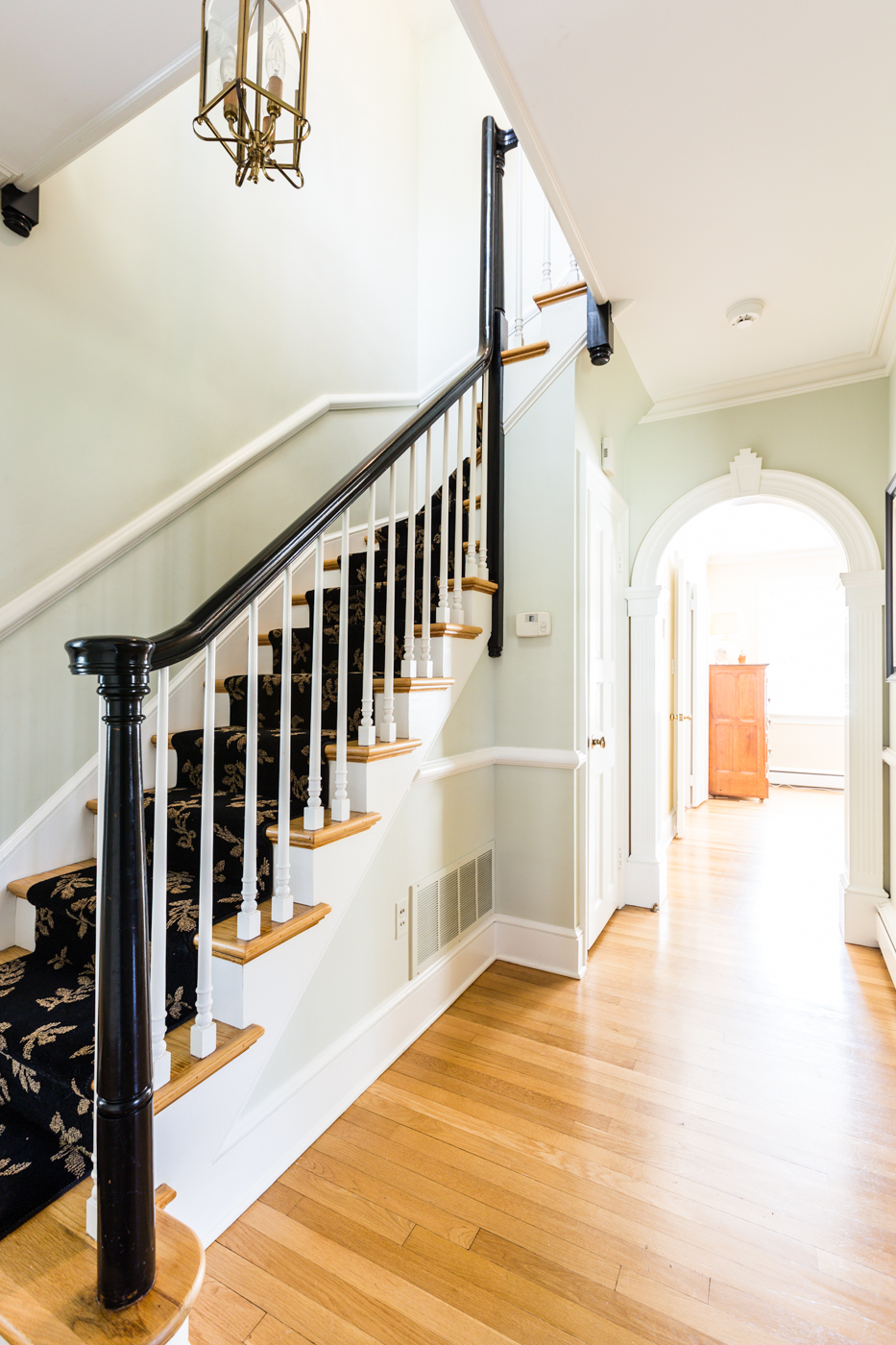 Being a real estate photographer on the Eastern Shore, the majority of the homes that I shoot have an inherently coastal aesthetic –sea inspired color palettes, striped fabrics, and nautical accents. So when I stumble across a home that's anything but beachy, it feels like I've been transported to another city… and I don't want to leave. That's what happened when I stepped into this home. What I thought would be a typical, mundane, real estate shoot, turned into an inspiring session. Beautifully crafted moldings and solid oak floors accentuated by a perfectly curated mix of traditional, vintage, and bohemian decor. I lingered as long as I could before asking the owner if I could come back to feature her home on the blog. She agreed.
It only makes sense that a house this stylish would be owned by someone equally as intriguing. Kate Oliviero is a wife, mother of 3, and a writer. She's written a memoir, and is currently developing a show for television. And on top of all of that, she clearly has an eye for design. Taking influences from her global travels, unique art collection, and West Coast aesthetic, Kate spent 9 years slowly transforming this 1952 Cape Cod into the home of her dreams.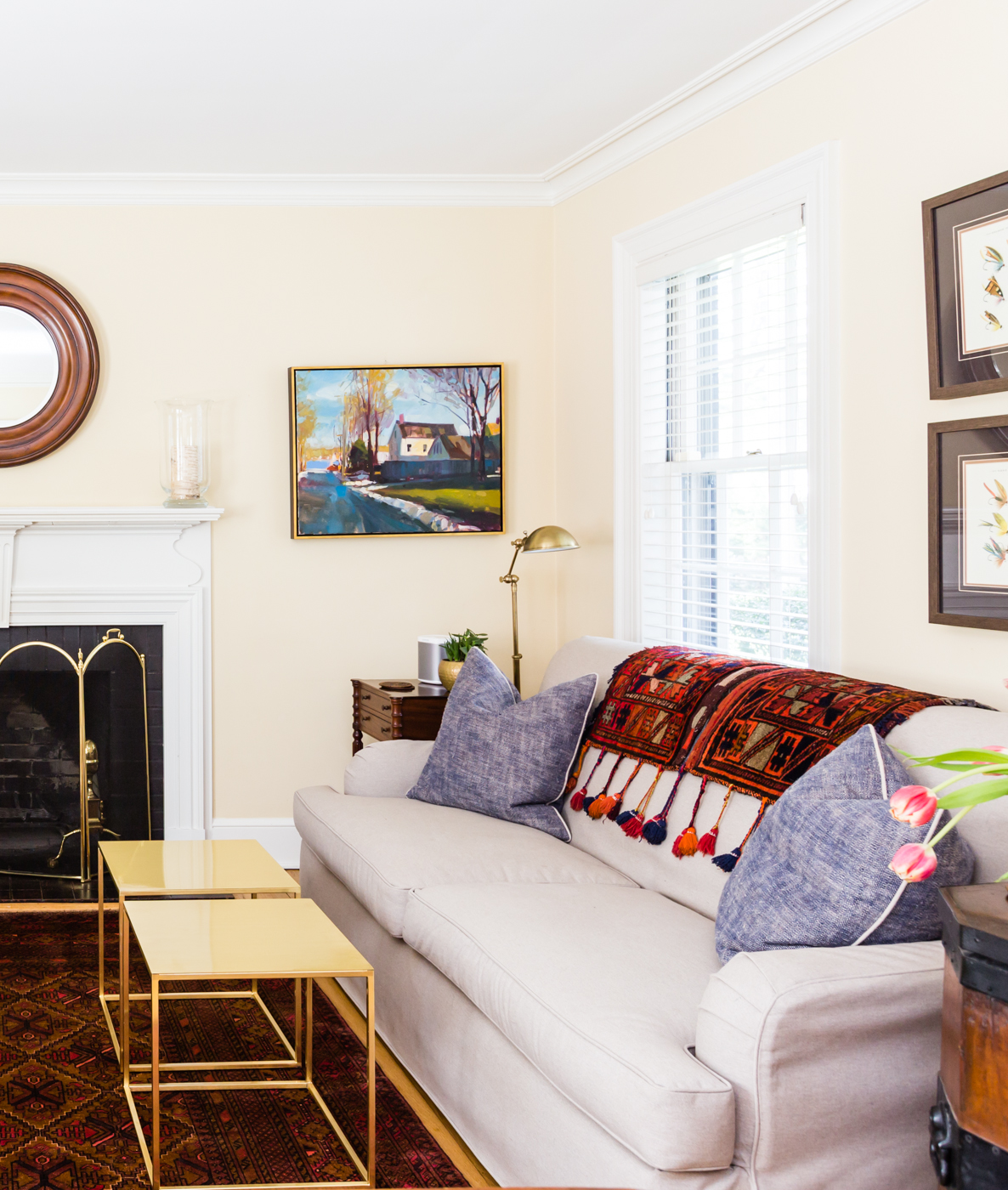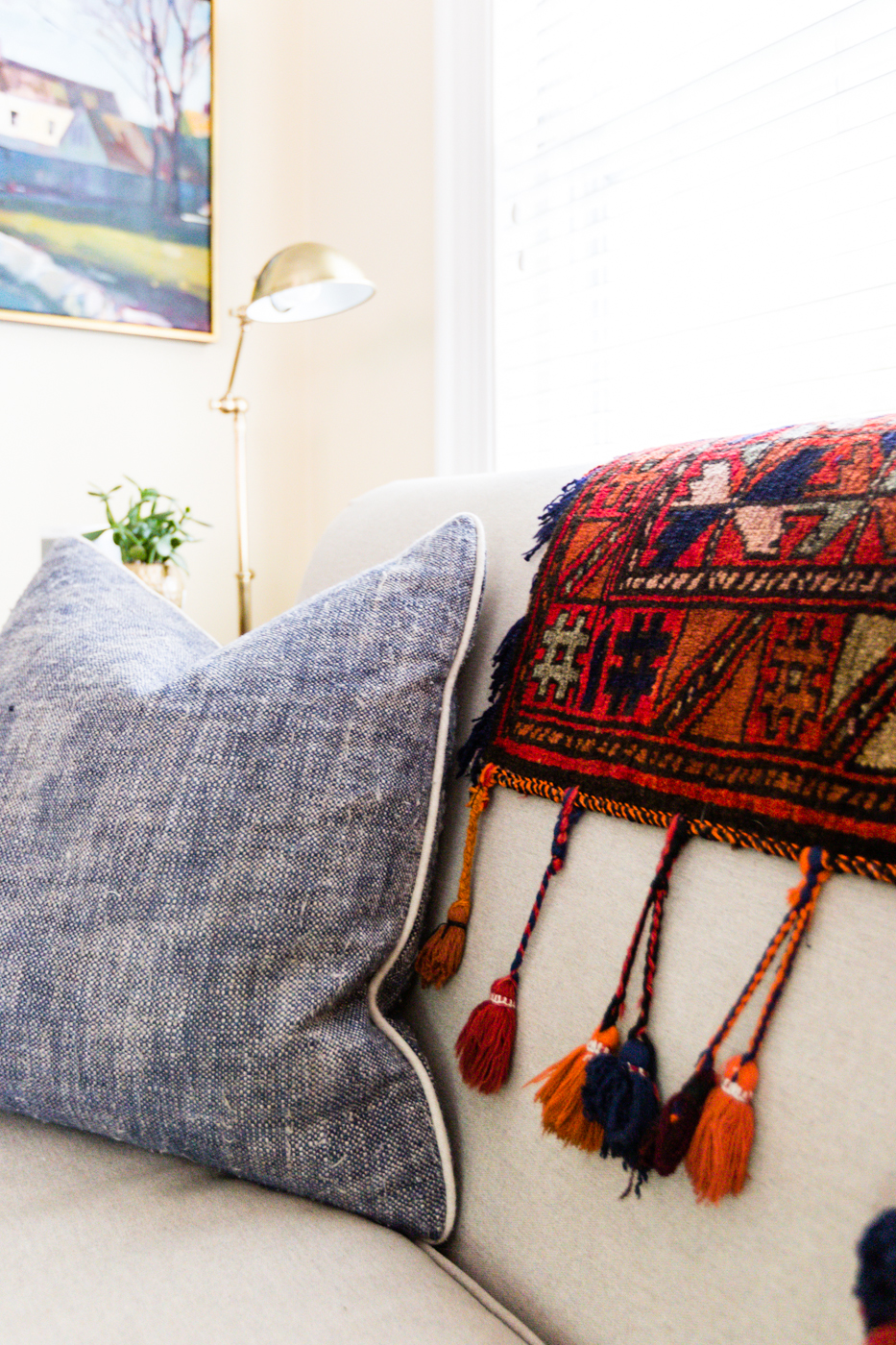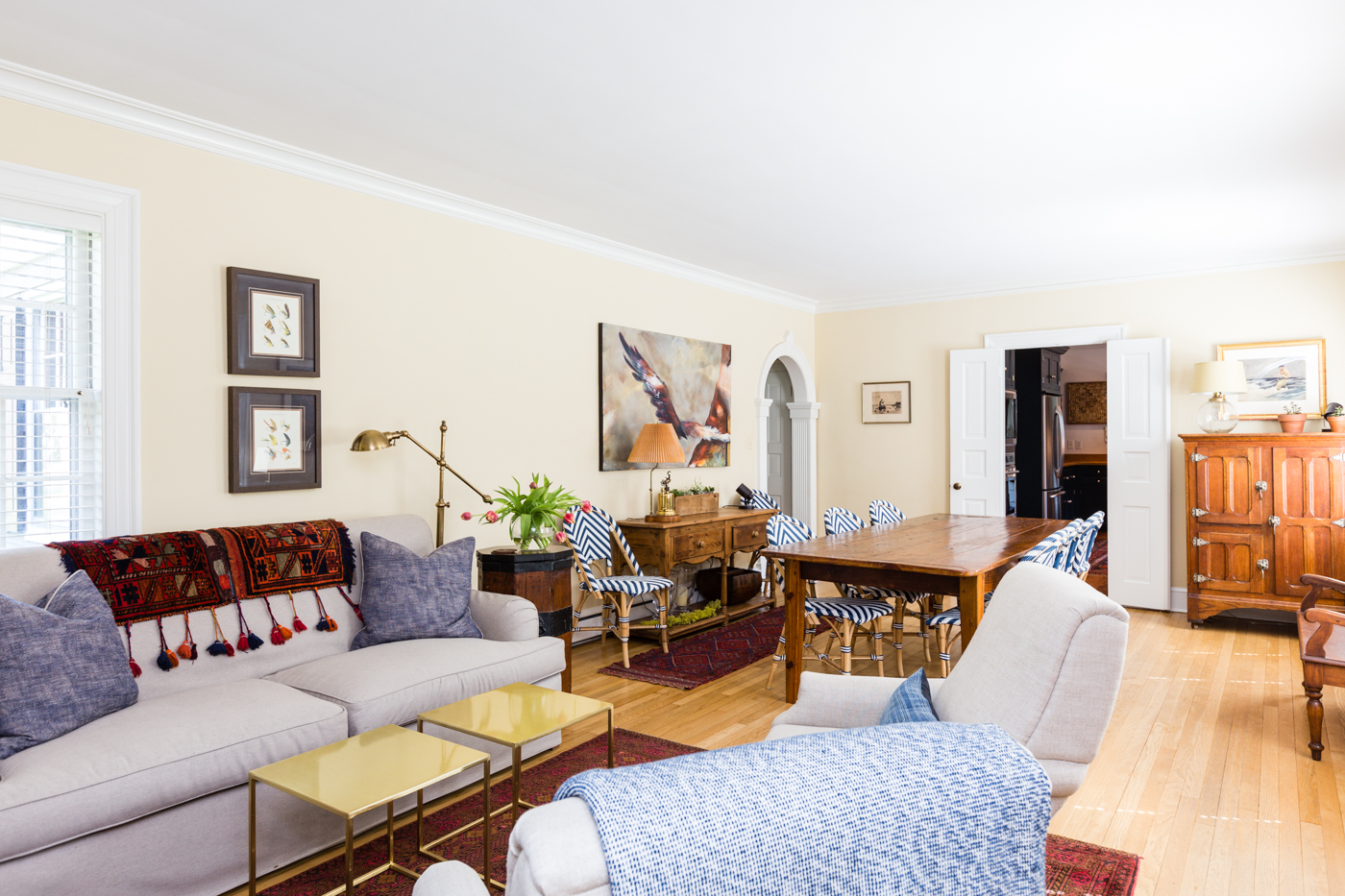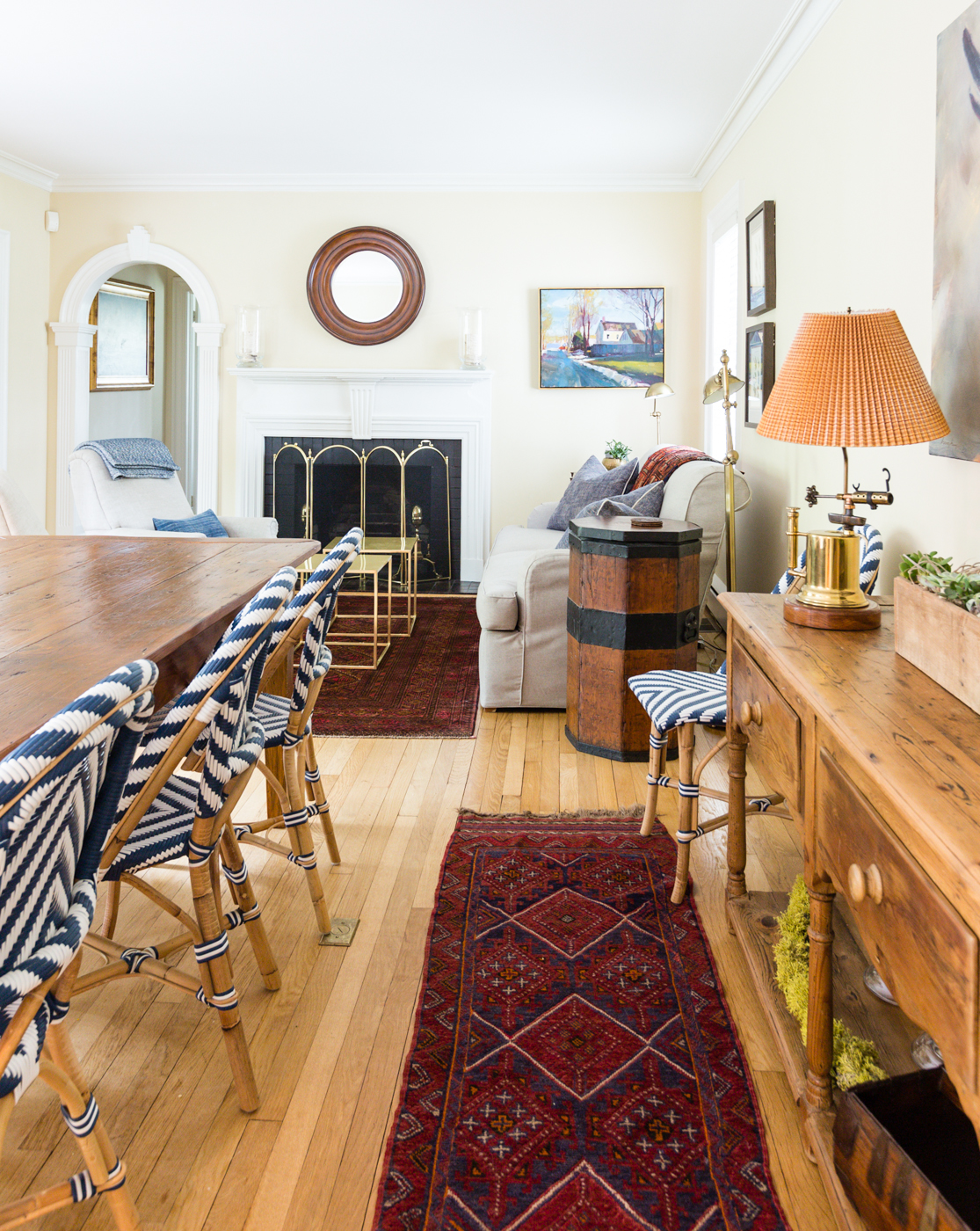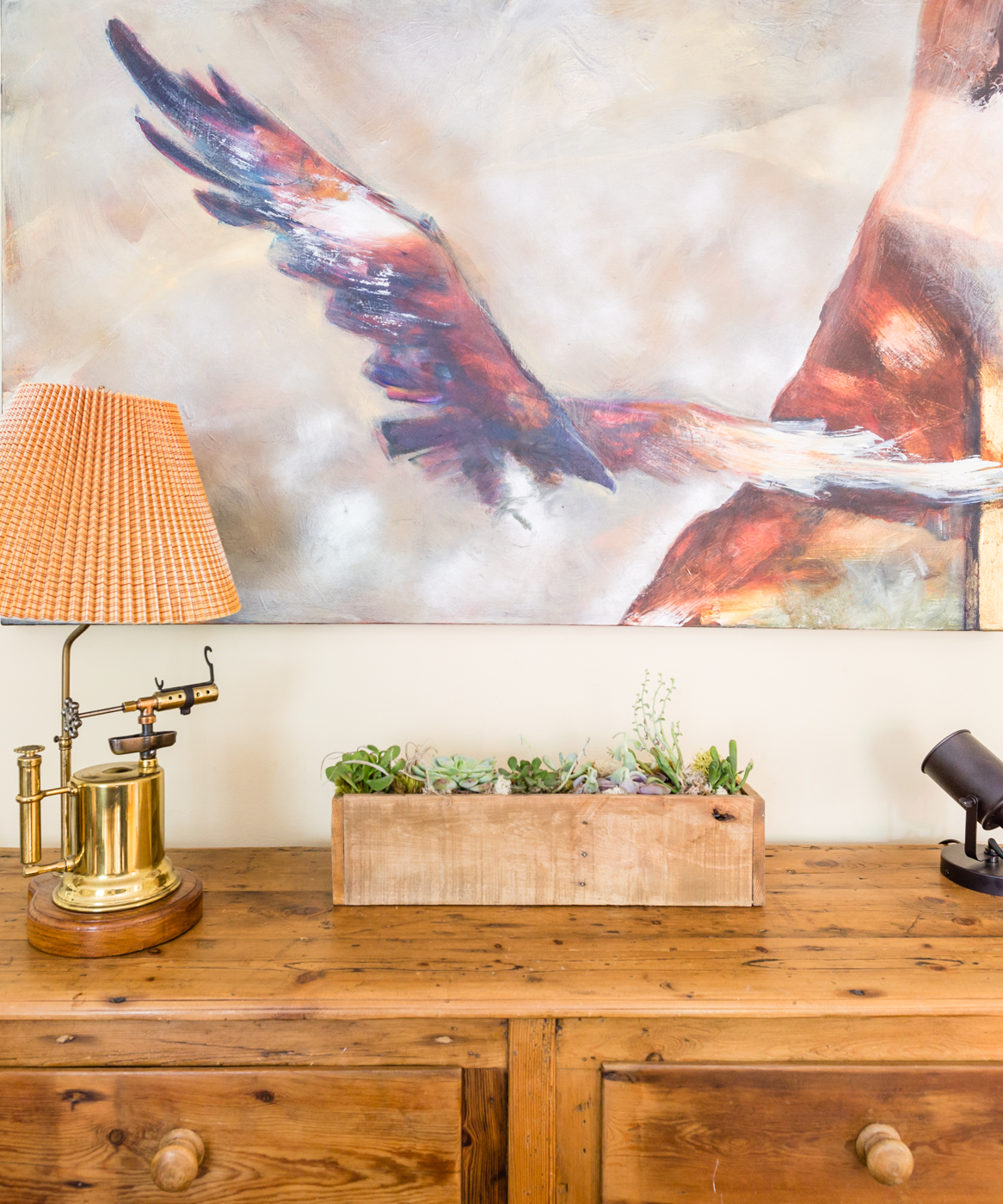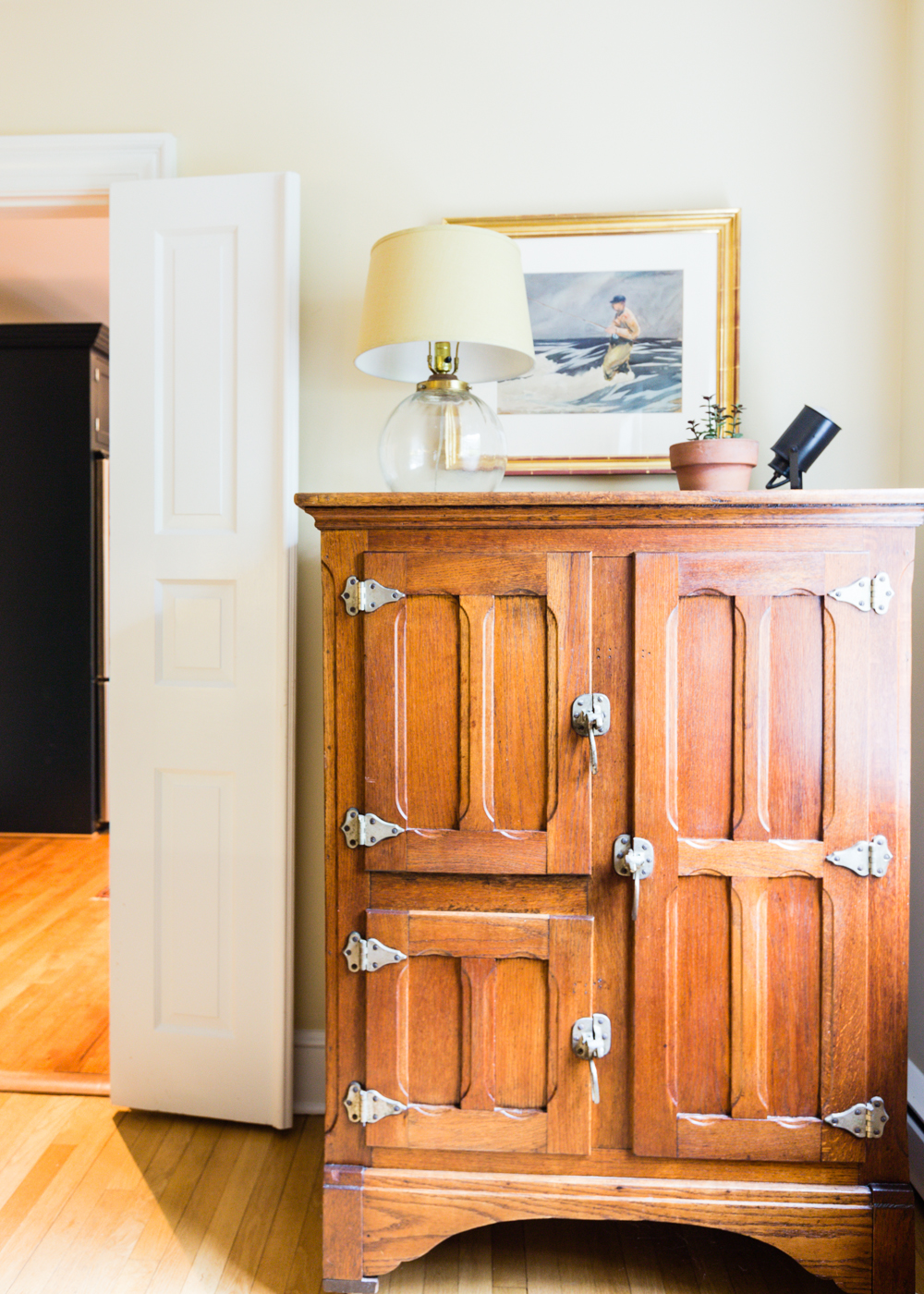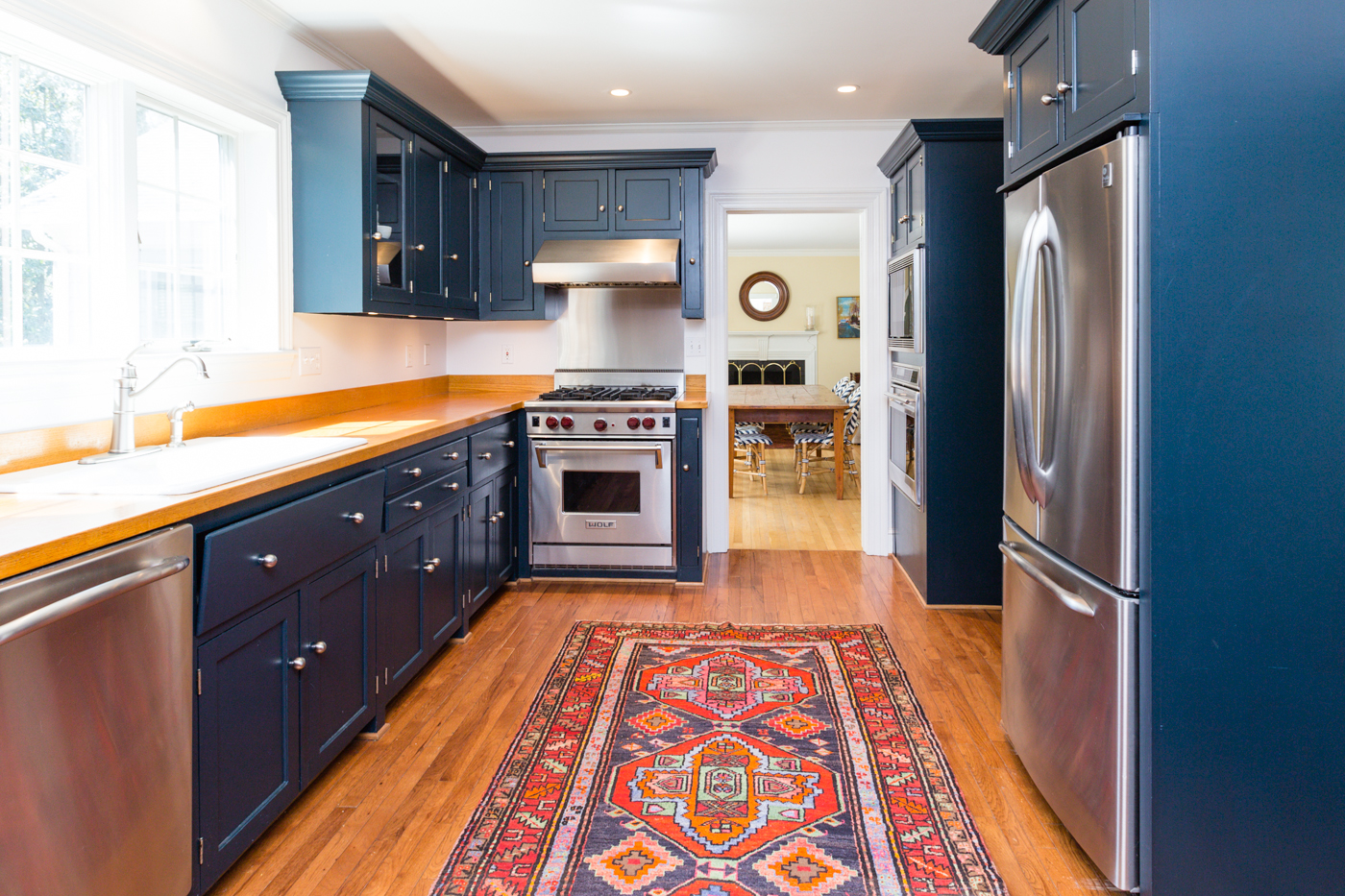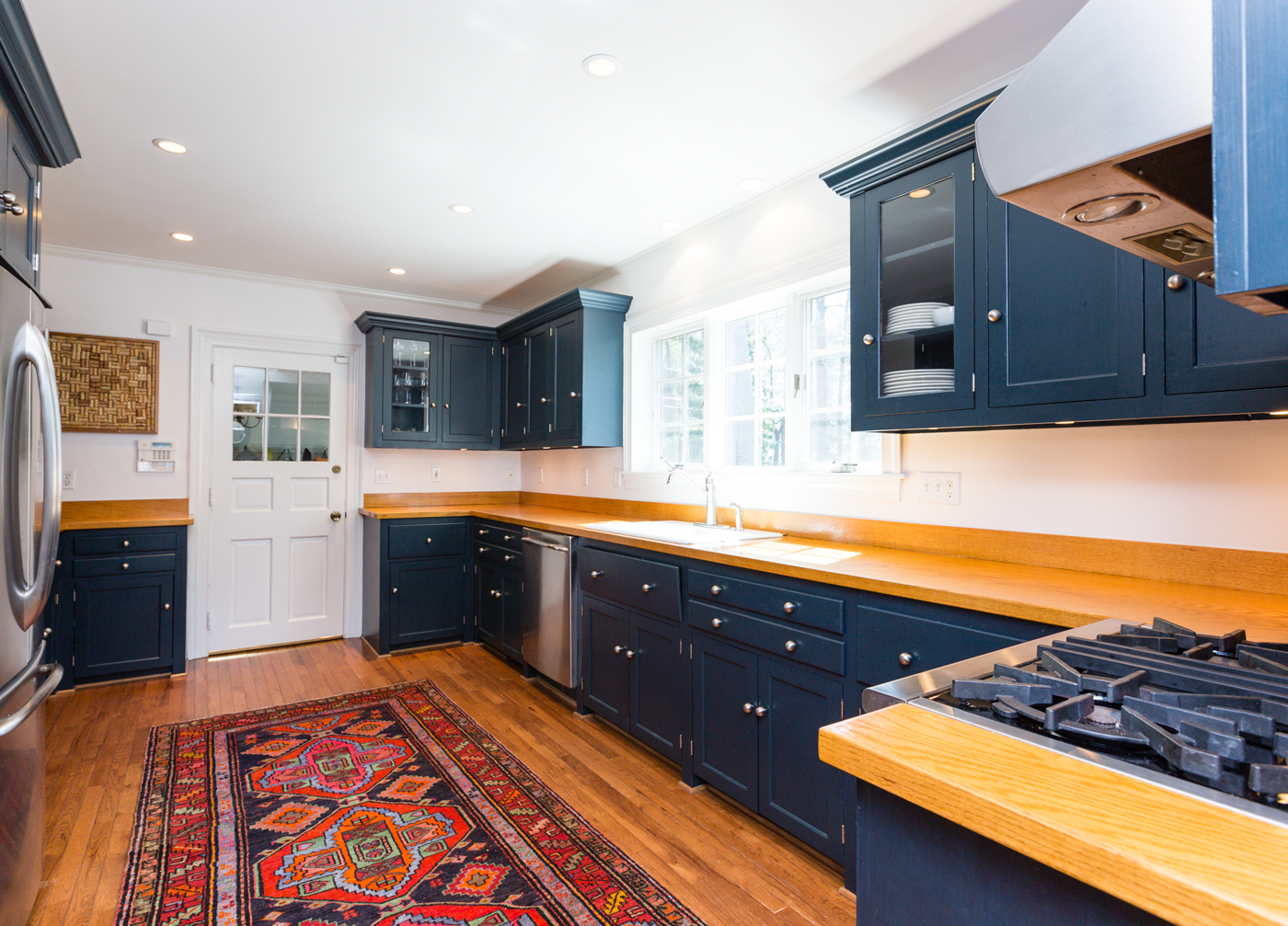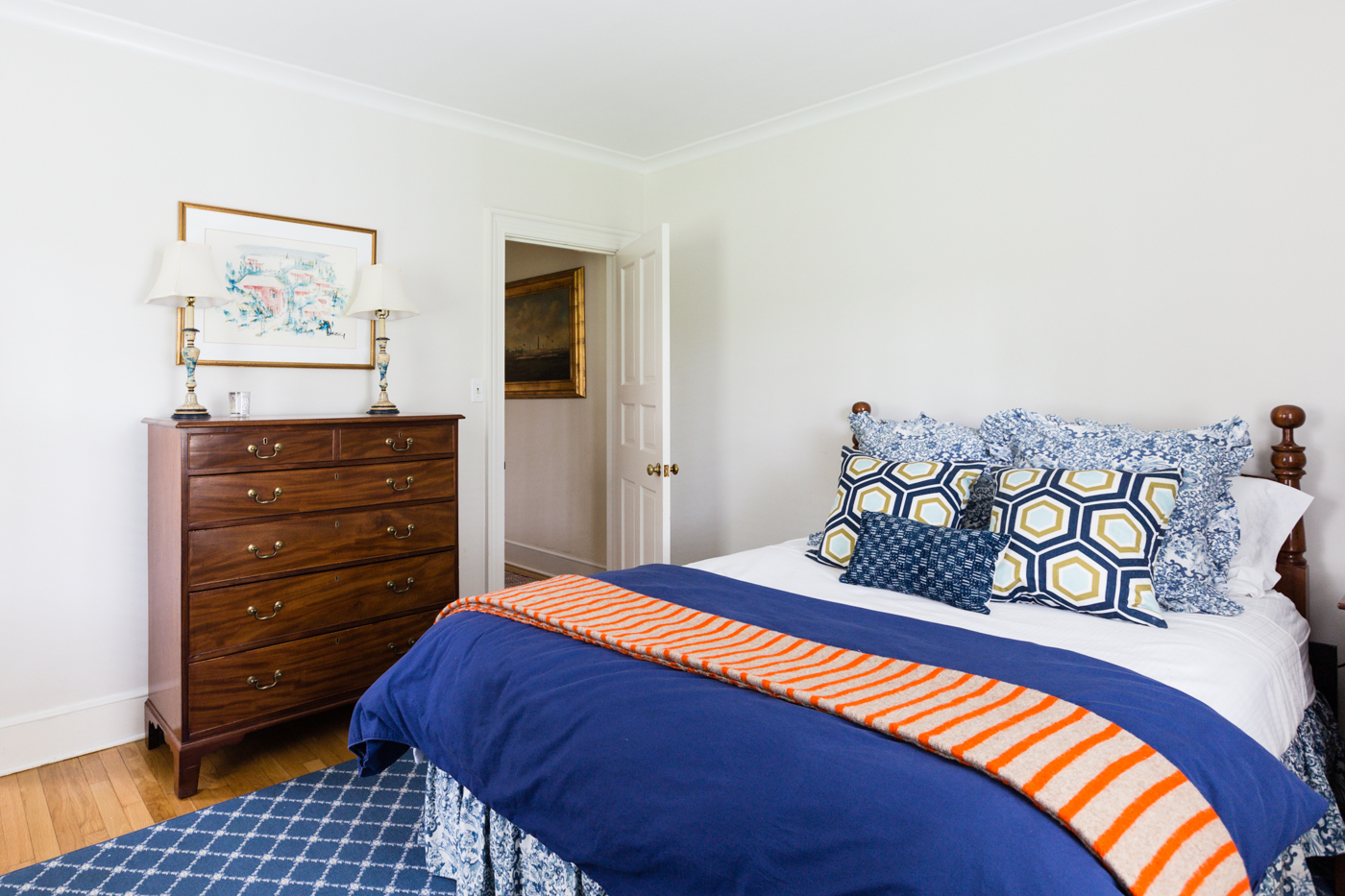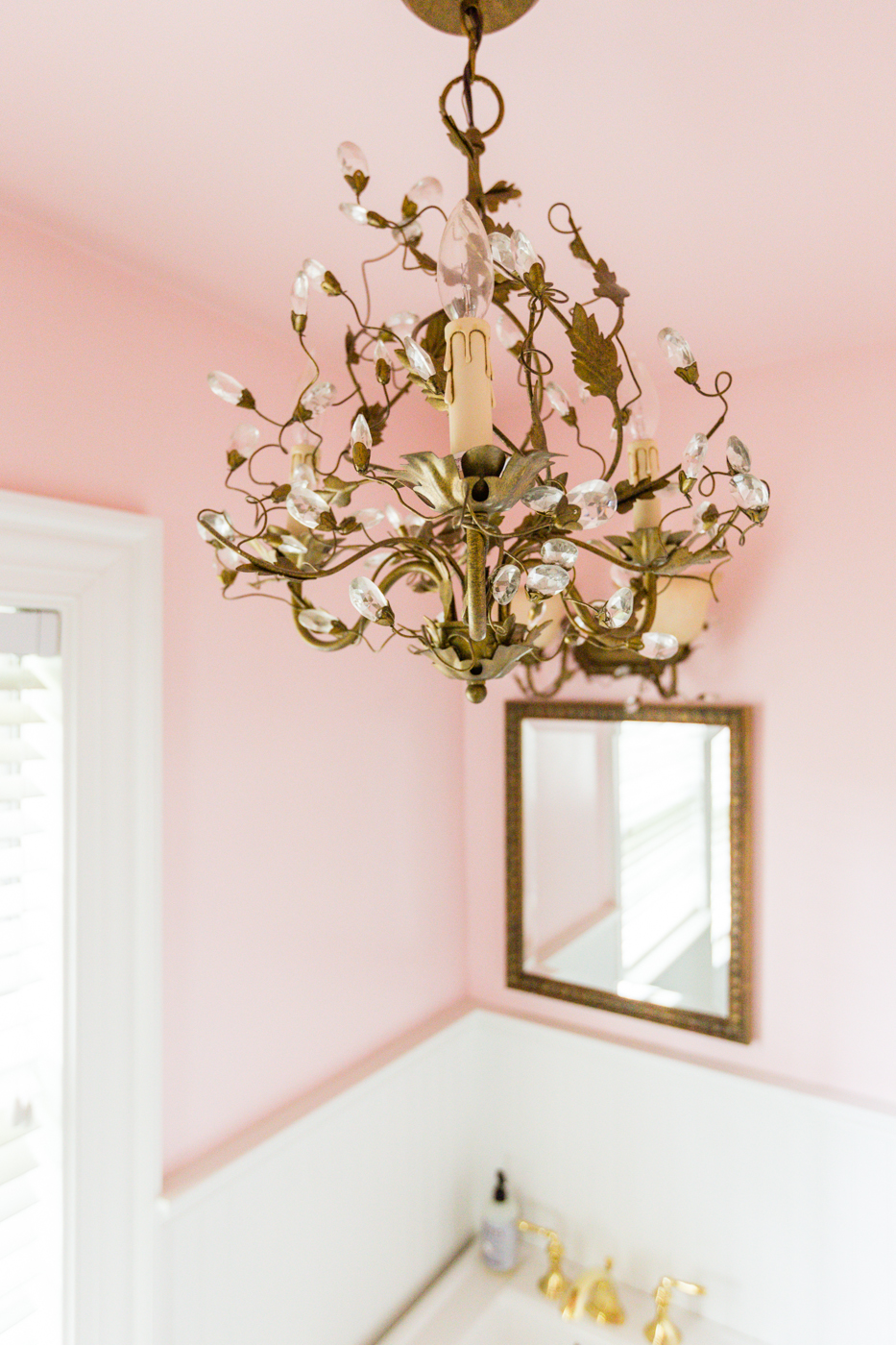 Q & A with Kate
Design Style: My husband and I are originally from New England so a lot of the furniture we have inherited is traditional, but my personal taste runs a bit more bohemian. I think the style of the house is a bit of a mix, with some Eastern Shore antiques filling the gaps. I spent a lot of time in California this past year, so my most recent acquisitions were definitely influenced by a West coast aesthetic.
Inspiration: We decorated for family living. Nothing is too precious and all furniture can withstand fort-making, jumping and spills – a leather couch, water and stain resistant fabrics on the chairs, slipcovers, big durable pillows made from vintage Turkish kilims. I love oriental rugs because they hide dirt really well and look better as they age. My mother-in-law is a member of the Director's Circle of the Portland Museum of Art, so we are fortunate to have a unique art collection, featuring a lot of established and up-and-coming Maine artists – like Connie Hayes, Tollef Runquist and Holly Ready. The art is the hero in each room, so I kept the furniture as neutral as possible, using throws and pillows to pull in color from the paintings.
Favorite features about your home: The wood-burning fireplace in the living room. When we bought the house the fireplace was hooked up to gas. We immediately switched it back to wood. I love the smell of wood burning in the winter – something about a fire makes a house feel like a home.
Favorite places to shop: Etsy! I have sourced items from all over the world (and met some great people) through Etsy – fabrics from Thailand and Portugal, poufs and rugs from Turkey and Pakistan, blankets from Morocco, a set of handmade modern brass tables from an artist in Los Angeles.
Favorite furniture/decor piece: I bought a vintage Khorjun donkey bag from a vendor in Pakistan with perfectly muted colors that you can only achieve from age and vegetable dyes. Originally I was going to hang it on the wall, but a friend suggested I drape it over the couch… it pulls the entire living room together and adds whimsy and interest to an otherwise basic sofa. My husband and I collect antique lanterns from all over the world. I love the contrast of the brass and copper lanterns against natural elements like antlers, moss-covered branches and succulents.
Biggest decorating challenge: Knowing when to stop and take a breath! I re-did our family room and living room this past fall and stopped myself before moving on to the master because I didn't want my entire house to reflect how I felt or what I liked in the Fall of 2015!
Best advice: See above…
Would you do it again: Absolutely! We are relocating our family to Boulder, Colorado this summer. I can't wait to see how the mountains inspire our next home.
Save
Save
Save
Save
Save
Save
Save
Save
Save